June 20, 2021
Munnar via Mamalakandam (Off road route)
All rides are meant to be filled with rare experiences, to be cherished for long. This story is about an offroad trip to Munnar, which is a very famous hill station in Kerala. Usual route taken by all travelers to this beautiful location from Kochi is via Kothamangalam and Adimali. This time we opted a different route filled with off roading, lush greenery and dense forest. Started early morning from Kochi we travelled through Thattekad (It's a famous Bird Sanctuary), Kuttampuzha, Mamalakandam, Anakulam, Mankulam, Latchmi Estate and Munnar. This forest path was built long back by British and is closed now due to some technical reasons.
Our ride manager, Stephen Joseph (Alias Roy), has got an in-depth knowledge of each and every territory and their offroad nature. Under his guidance we decided to take this route filled with tough terrains and wild animals. There were total 6 bullets and ten riders, with a rider Mr Sanjay who joined us as soon as he landed from Ireland previous day (With Jet lag). Athul Ajay's was a maiden ride on his new bullet. Other two ride managers Sanoob Azeez and Jilju Gladwin was also on their bullets. Dr Krishnakumar and his wife Dr Chethana came on their Chrome 500 bullet. Chethana, an experienced and passionate rider was the only lady rider in our group for that trip. People along small towns were astonished to see the lady rider who was manoeuvring her bike with much ease.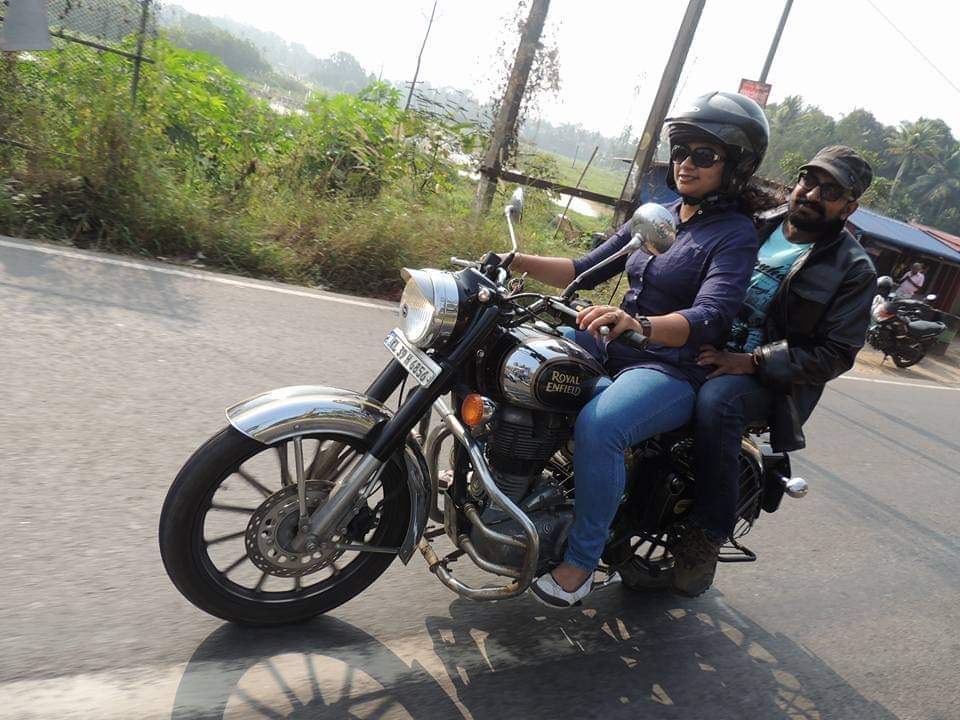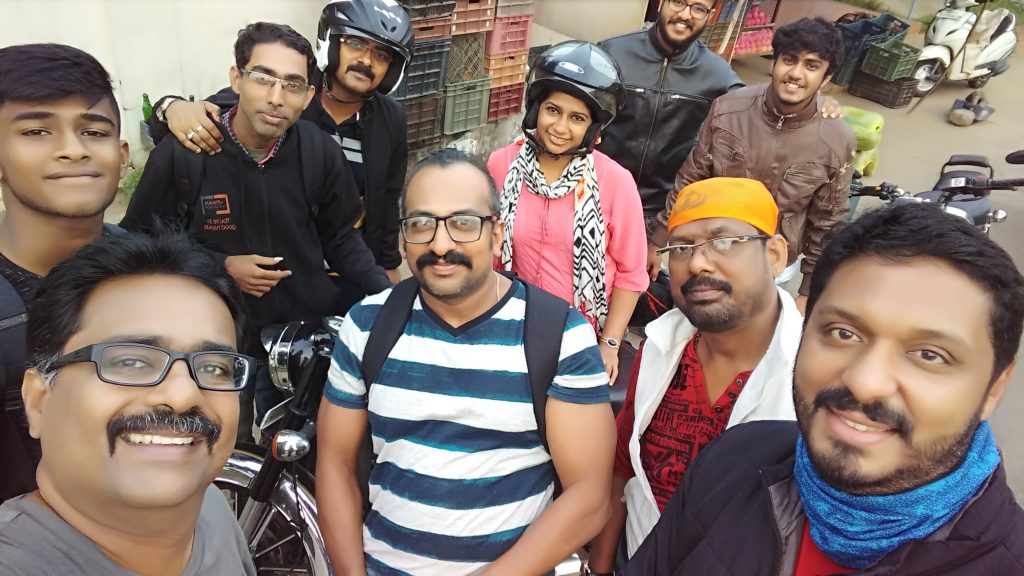 Obeying all traffic rules and maintaining an average speed we reached Kothamangalam and took a diversion to Thattekad route. Then started the scenic beauty of our route… narrow roads packed with full of greenery. Around 9 am we reached Kuttampuzha and had breakfast from a local countryside shop. The taste of hot puttu and curry was amazing.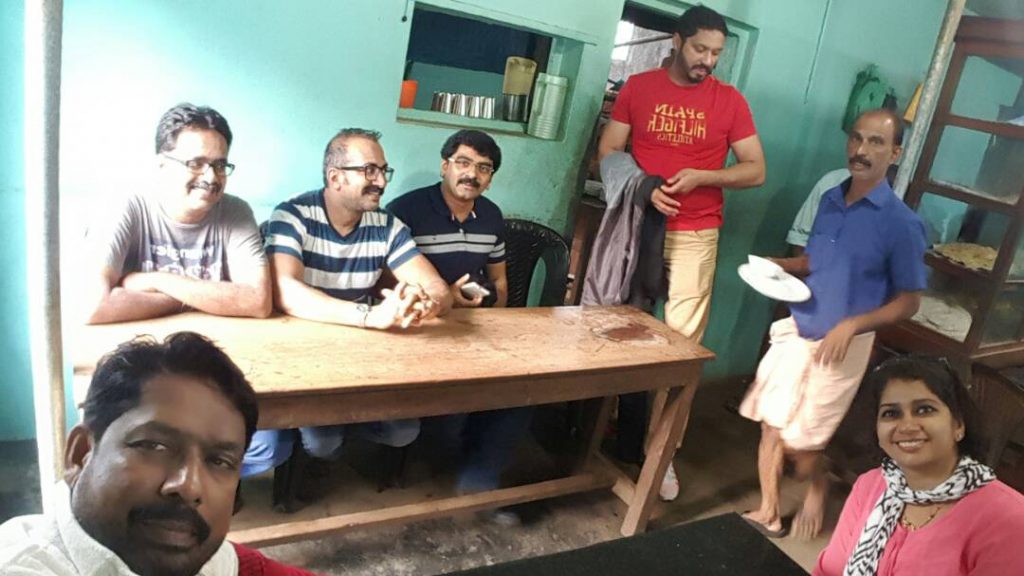 From there we continued our ride to Mamalakandam. Roads became narrow and at certain places we could not find any tar roads even. Enroute we saw lot of tribals and waived hands at them. We could see their happy faces though with bare minimum facilities. Our route was becoming narrower and temperature started falling…. We enjoyed the scenic beauty of our mother nature from a view point by taking lots of pics and selfies. We could hear and enjoy the rare sound of forest, birds chirping, waterfall sounds. On the way we saw Mamalakandam Govt School, lucky kids to enjoy that pollution free climate with pest free fruits n vegetables. If you look from the school yard, you can see a beautiful waterfall in a distance. How lucky are the kids to see that breathtaking sight everyday.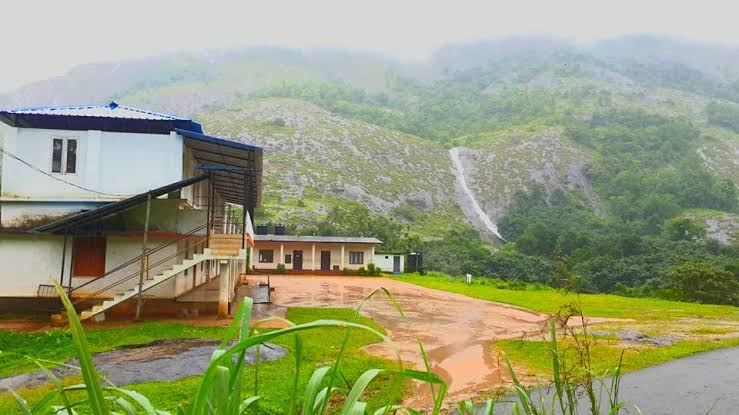 Near this school we met a local person and enquired about the road condition. He told that way ahead is full of stones and only 4X4 vehicle goes there that too very rarely. With our adventure adrenaline we opted for that route itself…. Thanks to Roy for giving us the confidence. After travelling around 2 kms, entire road structure changed… bike was climbing from one rock to another, occasionally getting stuck with engine scraping on the rocks. Oh God…. We even thought about aborting the trip at that point of time. Athul was in big tension as his new bike had not even done 500 kms. Sanjay with his Jet lag was finding it very difficult to be a pillion. Each and everyone was struggling their best to keep moving forward…. cursing Roy for opting this route(Joking).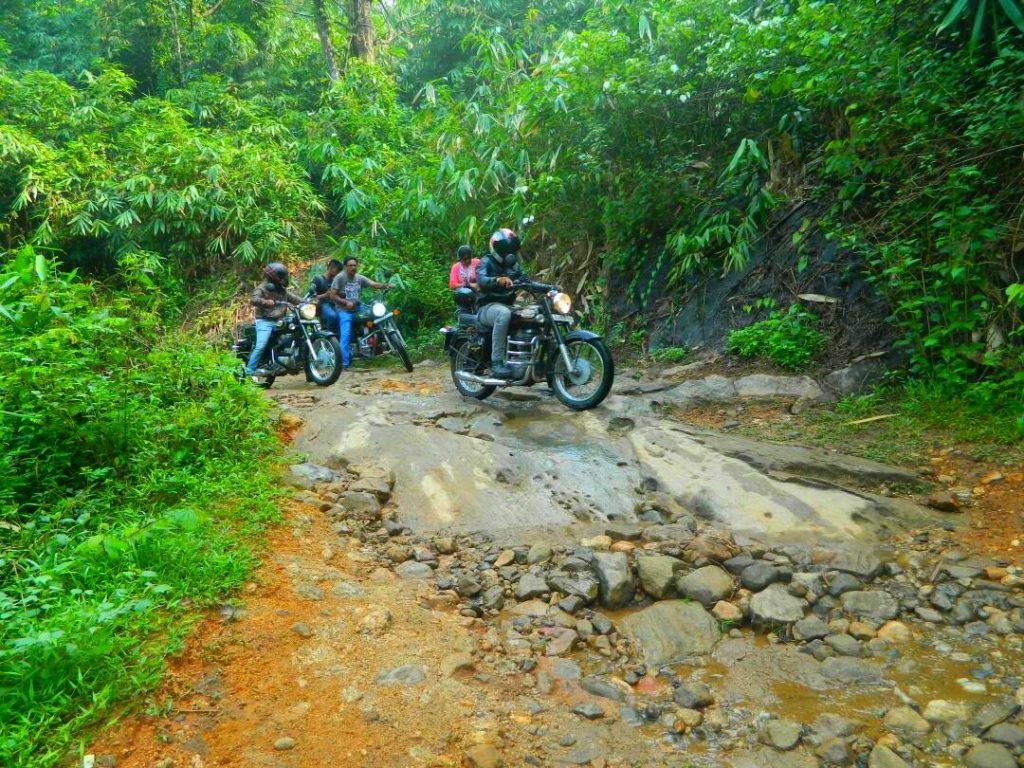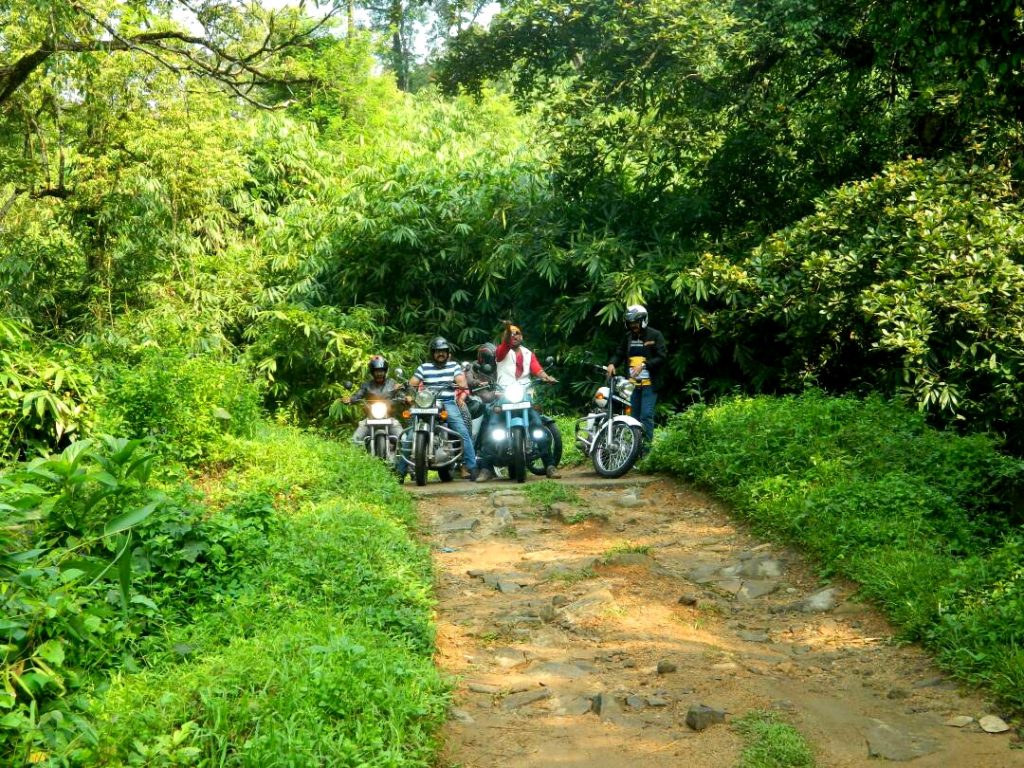 After moving forward a bit, we saw a stream of water and we all took bath in that chilling water. The freshness we had, was like in the morning before commencing the ride.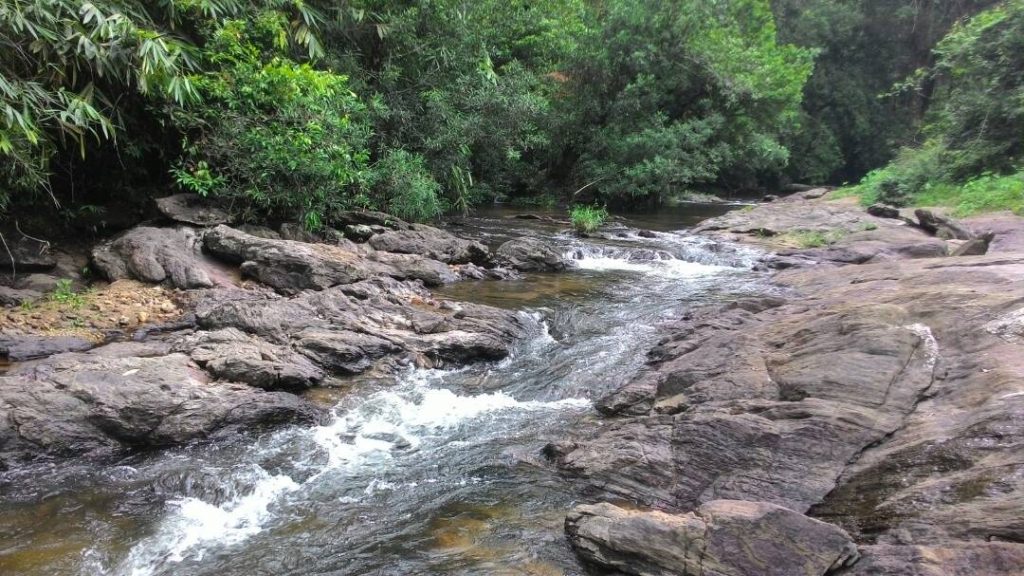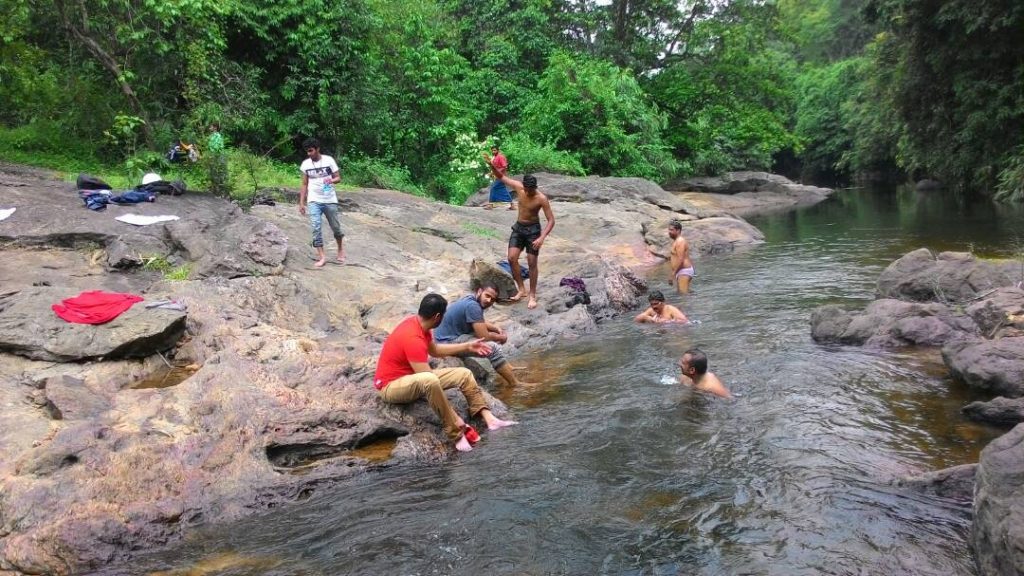 We kept moving forward, route was filled with wild elephants, wild boar, bisons and many more. Our path was becoming much tougher and steeper filled with stones and deep valley along side. As a sign of relief we saw a house and the inmates came out hearing bike sound. They told no one travels in bike through that road which is very risky and advised us to get out of the forest before its night… Plenty of elephants are there which may not spare us. After riding a bit, we saw a lorry which came to collect forest wood. Was wondering how the driver managed to bring the lorry to that place wherein there was no roads. Then came a small stream which we had to cross with bike.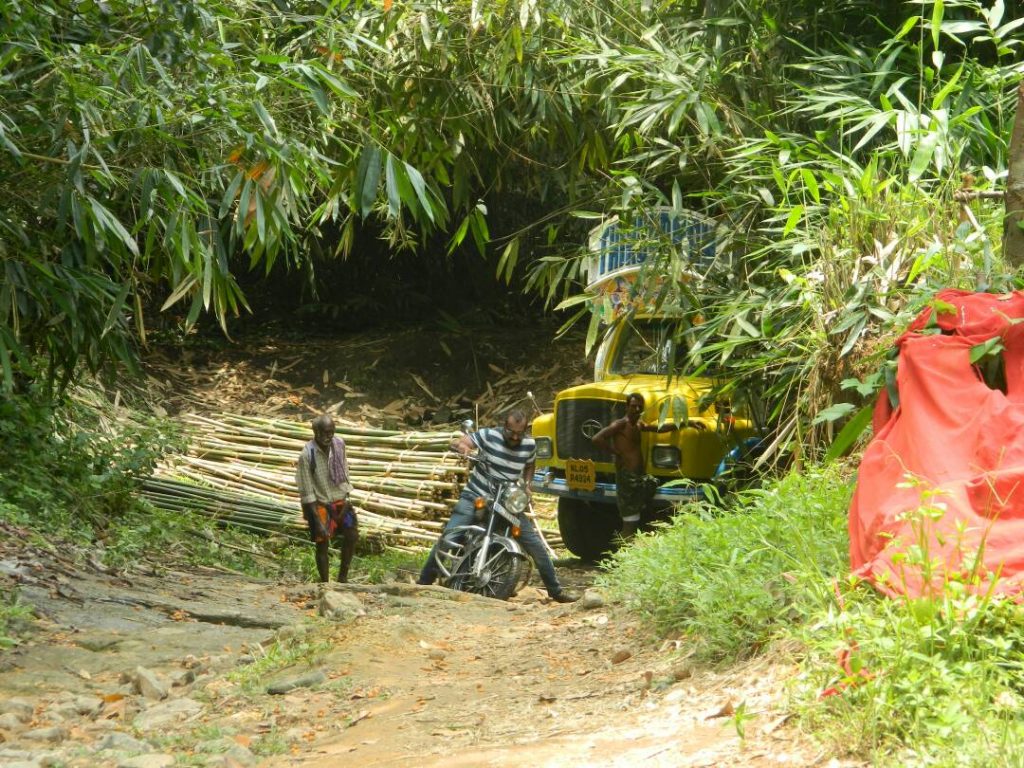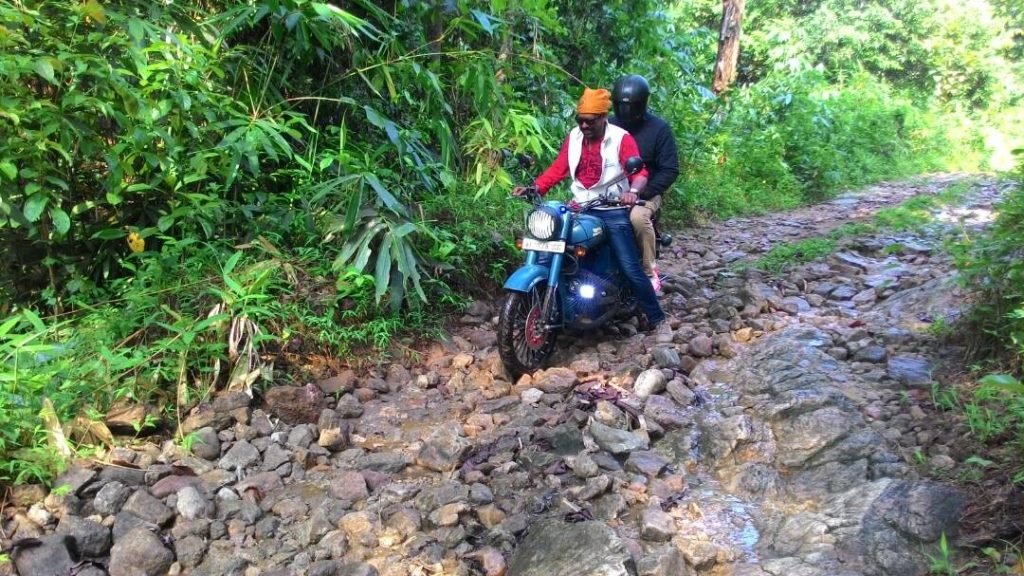 The toughest part of our ride came then… road ahead was fully dampened with loose mud and no way to move forward. Roy and Jilju who went ahead of others got their bikes immersed in deep mud and was no way possible to pull it out by own. We all put our best effort and finally was able to get it out with great difficulty. Silencer of both bikes had to be cleaned with sticks to get rid of the mud.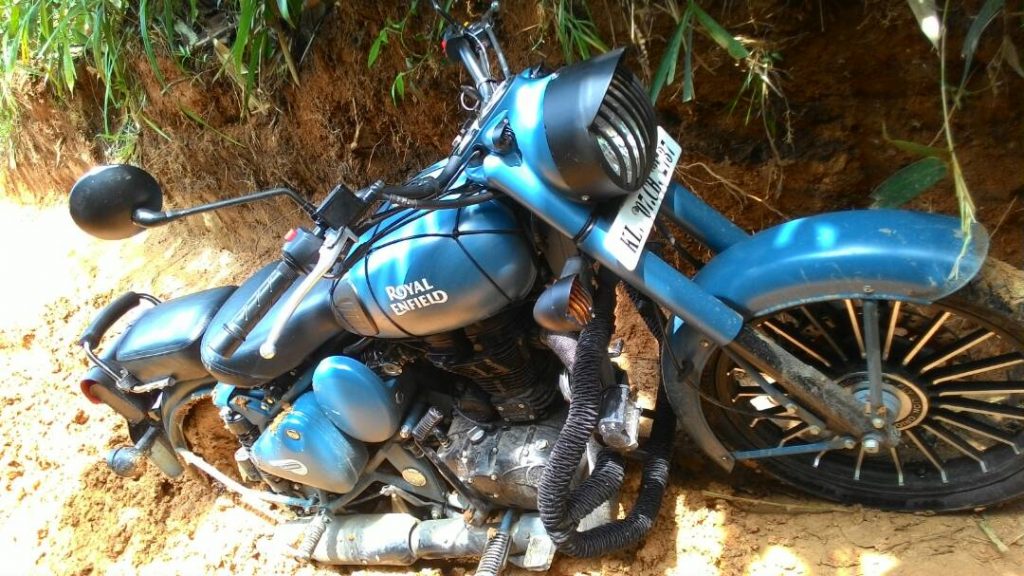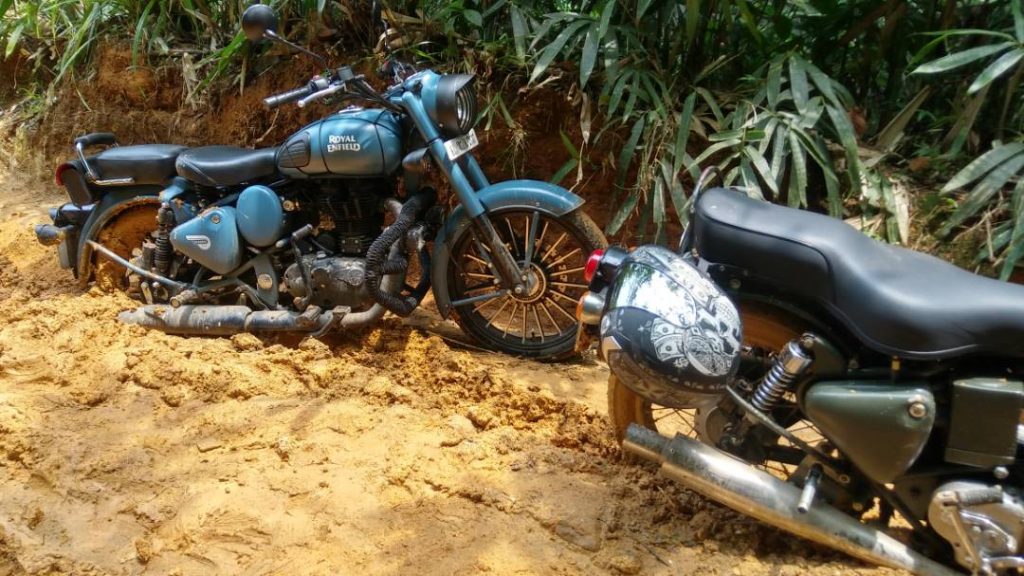 It was getting late and fog started getting thicker with no road ahead which forced us to abort the trip and return. On the way back we saw a small shop and had whatever food was there and even they brought food from their house seeing our hunger. Roy guided us from there to Aluva-Munnar main road and was indeed very relieved but with a pain of not completing the planned trip.